We are all a day behind this week. I think the snow played havoc with our brains...here is what Donna created for this week...Go Donna!!!
Sorry for the delay and the crappy picture, I really prefer to take pictures outside...but...it's been dark for hours.
Still using the October card kit to make some 8x8 layouts using pictures from our trip to Howell's last fall.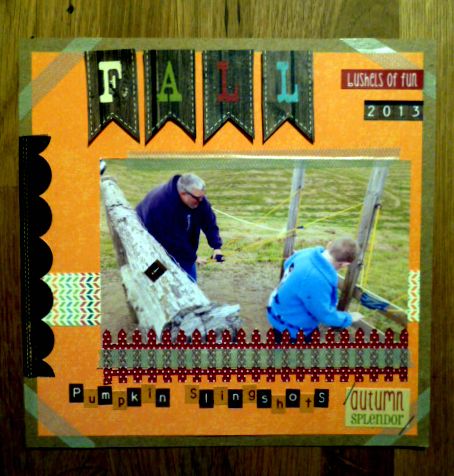 What I used to make the layout:
Harvest Lane 12x12 Expression Cardstock Stickers (Simple Stories)
Harvest Lane Border Strip Elements (Simple Stories)
Harvest Lane 12x12 Fundamental Cardstock Stickers (Simple Stories)
Acorn Hollow design paper (Little Yellow Bicycle)
Kraft cardstock (Recollections - not in the kit)
Washi tape (SU - not in the kit)
Stapler & staples (not in the kit)