Here's my last Wild Card Wednesday project for this month using the Cosmo Cricket - 2wenty Thr3e kit.
A while ago I had printed out a paper bow tutorial from Aly Dosdall's blog and have been wanting to try it.
By the end of the month I am usually down to scraps of design paper, so it worked well for the bow, I had enough to cut out the three pieces for the bow.
Here's a link to Aly's tutorial if you want to make a paper bow:
http://alydosdall.blogspot.ca/2012/08/paper-bow-tutorial-and-printable.html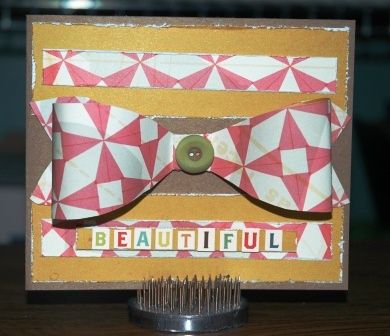 What's in it:
Cardstock - Kraft (The Paper Company)
Design Paper - Cosmo Cricket - 2wenty Thr3e - Foxtrot
(the pink / white design is one side / the yellow is the reverse)
Foof-a-La Button
Cosmo Cricket - Odds and Ends Stickers